2019 Homecoming
Erica Johnson
October 16, 2019
Hang on for a minute...we're trying to find some more stories you might like.
Homecoming week has always been one of the best weeks of the year, and this year definitely did not disappoint! From the spirit days to the numerous activities throughout the week, throwing it back to the 80's couldn't have been any better. Student Council worked hard this year to come up with spirit days and decorate the school with an 80's theme. Senior Kaleigh Mikalauski said, "I felt like this year's spirit week was one of the best! There were a lot more students and teachers participating, and it was really great to see how creative people were with the different themes."
We started out the week with Olympic Monday. At night, West had its largest Homecoming Olympics ever with over 1,000 students and 100 staff members participating. Teams competed in numerous relays like running with a tennis ball between our knees, an 80's trivia competition, and everyone's favorite event: tug-of-war. Homecoming Olympics are always one of the best events of the week, and it was great to see so much of the student body and staff come together to have fun.
Tuesday was Tourist Tuesday and throughout the day the halls were filled with staff and students in Hawiian shirts and cargo shorts. West was bright on Wednesday with Neon Day! Thursday, everyone's true school spirit was seen with numerous 80's looks. From colorful exercise clothes, to big hair, and even some denim on denim outfits, it really seemed like we were in the 1980's. Friday was warrior pride Friday where students wore West colors based on their grade.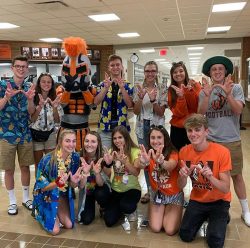 The assembly this year was a big success. Senior Alana Justice said, "I had such a great time during homecoming week, but the assembly was the cherry on top of the whole week. Being able to dance in front of the whole student body for Warrior Way was so exciting and a lot of fun. Being one of the emcees was nerve wracking at first, but once we started it was one of the best experiences I've ever had in high school." There was a lot of planning that went into the assembly this year, and it was definitely worth it. Throughout the week there was a "class clash" competition between the grade levels. Each class participated in different events like finding Rubik's Cubes in the halls, a toy drive, attending sports games for different teams, and some competitions at the assembly. The senior class of 2020 pulled through with the win!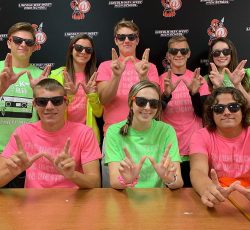 With the severe storms at night on Friday, the football game was moved to Saturday. Even though not as many people were able to attend, the student section was full of pride to cheer on our team as they were facing Lincoln-Way Central. Senior Johnny Latek said, "It was a team win. Everyone played well and we're just going to keep getting better and better as the season moves forward."
The week ended with the biggest dance in West's history. Student Council sold over 1,500 tickets and students packed in the gym for a fun night with their friends. Junior Emily Hill said, "All of homecoming week was lots of fun. The themes got everyone excited for the dance. My favorite part of the week was by far Saturday. I had a lot of fun dancing with my friends and taking pictures."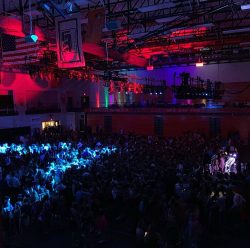 Homecoming 2019 was definitely my favorite week of all of high school and I'm so glad I had the opportunity to be involved with it in so many ways. With all the events that took place during the week, it's pretty safe to say that this year's homecoming was full of fun experiences and unforgettable memories for everyone!