Top 10 Things to Do Over Winter Break
Look at holiday lights


Take the family out on a late-night stroll and look at your neighborhood holiday lights, or if it's too cold, pack the family in the car with some hot chocolate and candy canes and drive around.
Make ornaments


Get crafty and make your own ornaments; there are lots of ways to make them! You can paint on the circular glass ones or make a salt dough ornament. All you'd need is salt, flour, and water, so go out and decorate your tree with some of your own work!
Build a snowman


Building snowmen is one of the most classic ways to spend the holidays. Go out in your front lawn and roll three balls of snow on top of each other, get some buttons for eyes, and don't forget a carrot for the nose.
Go volunteer


Looking for ways to help during winter break? Go out and volunteer and help the community. You can get some ideas from the article in this issue titled "Giving Back for the Holidays."
Go ice skating


You can go ice skating all year round, but now you can do it outside! Find a safe place to go ice skating and show off your moves on the ice.
Make snow globe mason jars


Snow globes are great seasonal decorations around the house. Make your own to spice up your space.
Bake some treats


People of all ages can come together a bake some goodies. The toddlers can measure and pour, while the teens get the ingredients ready. It is a great way to get the family together and also eat something delicious. If you're looking for ideas, check out the articles in this issue titled "Homemade for the Holidays" and "Top 10 Holiday Cookies."
Have a secret Santa exchange


Get together with your friends, pick out a name, and get or make them a present.
Go sledding


If there are areas that are safe to sled, go out with friends and family and have fun with this activity. Go wild and put on your favorite pair of snow pants and make sure to bundle up.
       1. Throw a party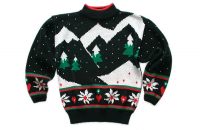 It doesn't matter if it's a rustic-themed or an ugly sweater party, get together with friends and family and just have a good time.