Plan a Holiday Movie Night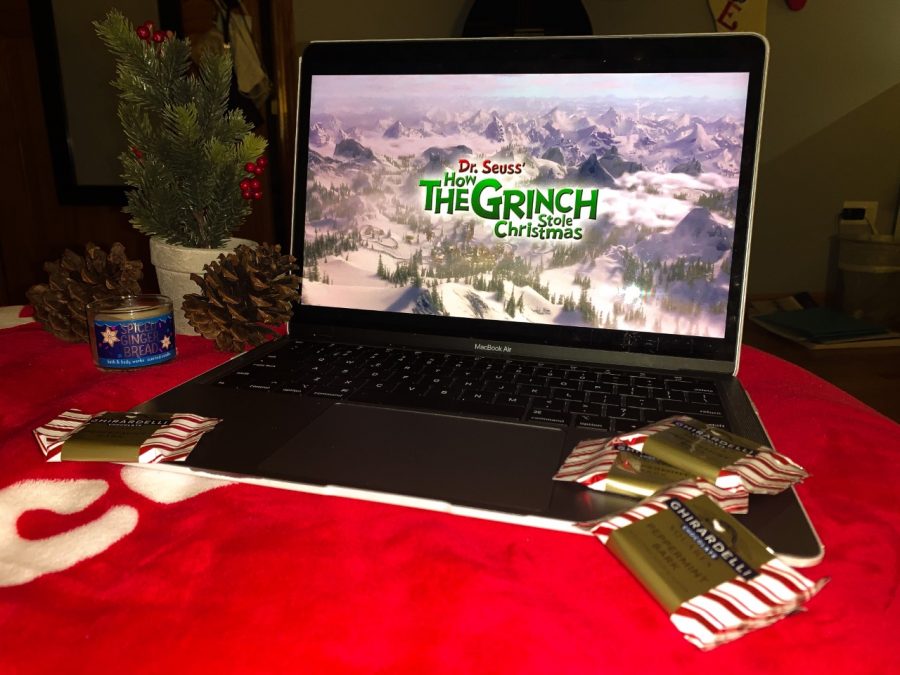 Piper Eggener
December 10, 2020
With the crisp season of autumn finally coming to an end, it's time to pack up all the skeletons, ghosts, and pumpkins, and prepare for the cold December snow. What better way to spend the frosty winter season than curling up inside and watching the best holiday movies? So, go grab yourself a cup of hot cocoa and a blanket, because these eight seasonal classics never fail to bring joy.
Not only is it a catchy song, but Frosty the Snowman is also an essential movie to watch this holiday season. With his corncob pipe and his button nose, Frosty makes this movie the perfect family-friendly must-see. Typically, a classic like this can be found on DVD or on any cable movie channel, so be sure to record and enjoy!
If you're looking for a more humorous holiday movie, Elf is the best choice. Watching Buddy the elf, played by Will Ferrell, try to assimilate to life in New York City after working in the North Pole his whole life under the impression that he is an elf only to discover he is a human whose real dad lives in NYC, can bring a smile to anyone's face. The movie is packed with comedy, romance, action, and fun! You can find this movie on DVD at almost any store like Walmart during the holiday season, so remember to get yours or record on cable T.V.
Nothing will make your heart grow three sizes except watching How the Grinch Stole Christmas. Whether you watch the original cartoon, the animated movie, or the live-action version with Jim Carrey, the Dr. Seuss classic can always be counted on to bring holiday cheer. It can be found on Netflix, DVD, and many cable TV channels.
Everyone knows traditions are what make the holidays so special, so why not start one this year? Rudolph the Red Nosed Reindeer is on a lot of cable TV channels on Christmas Eve every year. I'm sure your family would love to sit down, eat some popcorn, and watch it with you!
The Polar Express is by far the best movie to watch while drinking a cup of hot chocolate, snuggled up on the couch. So, why wait? Go grab some cocoa, your friends, and put the DVD in!
Not only is it a fantastic Halloween movie, but The Nightmare Before Christmas is also the best Christmas movie too! The balance between joy and fright throughout the movie is perfect. You can watch Jack Skellington, the king of Halloween, become intrigued by the idea of Christmas spirit on Disney Plus or DVD.
Even if you aren't a huge fan of Claymation, It's a Spongebob Christmas is the perfect movie to watch this holiday season, especially if SponegBob played a big role in your childhood. Between the catchy songs and cheerfulness, it never disappoints. There's nothing better than watching this movie with siblings or friends in your favorite pajamas. This movie can be purchased for just four dollars on Amazon.
Any 2000's kid remembers running home after school to record all their favorite Disney holiday movies featured for the "Fa-la-la-idays" on Disney Channel. We may be older now, but my personal favorite was and still is Good Luck Charlie:It's Christmas. There's just something about this movie that is so heart-warming and nostalgic. It's full of humor, action, and emotion, while still emphasizing the importance of family during the holidays. You can find this movie on Disney Plus any time of the year!
The best thing about holiday movies is that there are so many to choose from! So, don't limit yourself to this list! Just remember, it's not about what you watch or what festive activities you do this season, it's about making memories with the ones you love (but picking a good movie definitely helps).