10 Questions with Mrs. Krippel
What made you want to become a teacher? What do you enjoy about the job?
I come from a large family full of educators, and I spent most of my free time at school waiting for my mom to finish up her workday. I liked seeing how things worked behind the scenes, the smell of the ditto machine (which made copies for you young folks), and helping my mom with her work. I also saw how much of her life was dedicated to her profession and admired that. I am very lucky that by choosing teaching I found a career that also is something I truly enjoy. I think teenagers are some of the most fascinating, inspiring, and entertaining creatures on this planet. I learn something new every single day doing this job, and I get to smile too. Not a bad way to earn a living if you ask me. Plus…post-its make me very happy.
If you could go back and give advice to your high school self, what would you tell her?
"Hey, Sar, relax. No one really means it when they say these are the best days of your life. Those are yet to come." Being an adolescent is tough, and I wish I would have cut myself some slack. I would also tell her to enjoy the fun parts of school more, like roller-skating day in P.E. & Connie's pizza in the cafeteria.
What are you most looking forward to doing over winter break?
Getting an opportunity to make some new traditions while at home–the holidays will be much different for us this year, so I will have to make the most of Zoom holidays with my family and finding some new ways to celebrate. I also hope to improve my Scrabble skills, learn to cook some new things, and catch up on some T.V. shows while home.
What was your first job? What was it like?
My first job was at the Ben Franklin. Ben Franklin was a old school dime store and sold literally everything. You could find me stocking the school supply aisle or organizing fabric and helping people find greeting cards. It also played soft rock on a loop, so if you need to know the lyrics to any Michael Bolton song, I'm your girl.
If you could have one song play every time you entered a room, what song would play, and why?
"Get Ready for This" by Sure Shot Kid / Jock Jams Soundtrack. Why? It's impossible not to smile, laugh, or dance when you hear it. I like to make people smile if I can.
If someone could go back in time and open your high school locker, what would they find?
In my high school locker you would find:
*A magnetic Blues Clues stuffed animal
*School photos and dance photos of my friends
*All my textbooks & school supplies
*My soccer bag
What do you like best: coffee, tea, or hot chocolate? Why?
I enjoy hot chocolate more but drink more coffee for the necessary caffeine. I'm not the most friendly person in the morning. Coffee makes me more human.
Describe the worst haircut you have ever had.
What I wanted: a 90's undercut. What I got: a 90's bowl cut. Sixth grade was a rough hair year. There were also a lot of questionable perms over the years.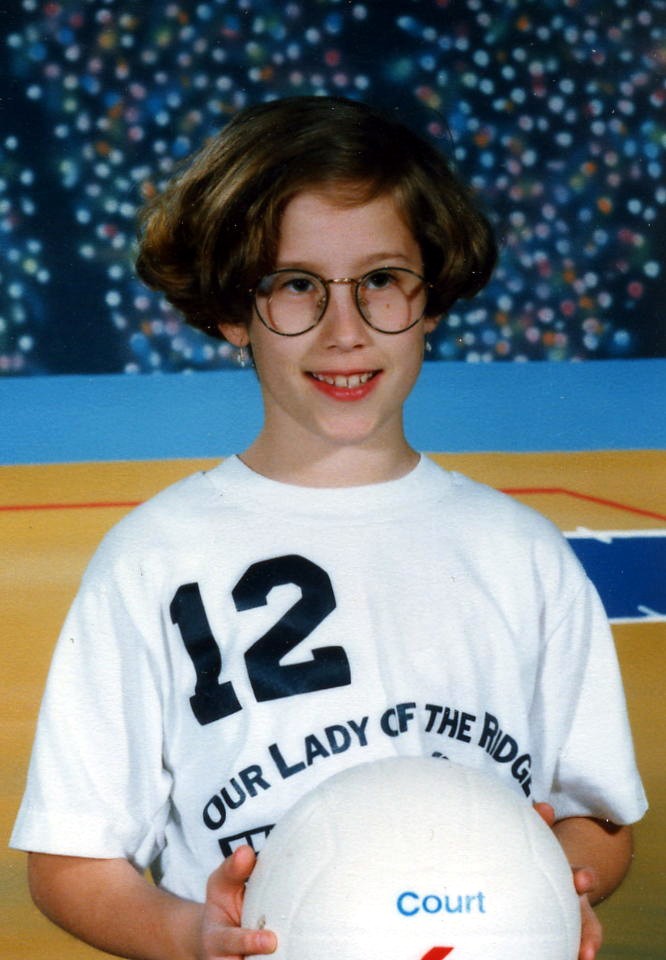 If you unexpectedly found yourself with a free hour at 4:00 p.m. on a Tuesday, what would you do with the time?
I would like to say I would relax or take time for myself. In reality, I'd likely make a to-do list, then reorganize it by priority because I just can't help myself. Maybe I'd get crazy and categorize my grocery list by region of the store, who knows?
What is a trend from when you were in high school that you thought was cool at the time but now just seems goofy?
Two words: plaid pants