Lincoln-Way West Fall Athletics in Review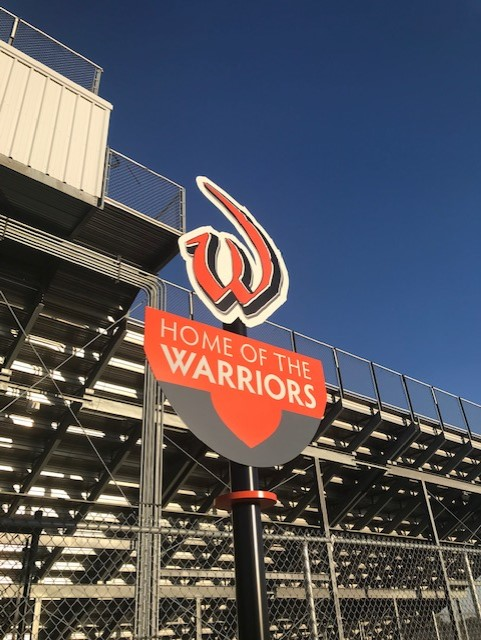 Christian Hirschboeck
October 20, 2020
With the changes to athletics set in stone by IHSA this year, high school sports were all over the place. Most fall sports were moved to the spring per coronavirus, but a select few still took place. Let's catch up with how the fall 2020 season at West unfolded.
Girls Swim:
In a short interview with senior Brynn Gregus on behalf of the swim team, she had this to say: "These past four years have been an amazing journey. Our team has gotten so much faster and stronger. Shaping this team took a lot of hard work, but our dedication had been growing all throughout high school. To work this hard and to come through with so many victories was very rewarding. It was so exciting to see the girls hard work pay off by making history at West, and it was even greater to be a part of it. We are all so proud and supportive of each other, as well as grateful to be where we are now. It's inspiring to not only the younger students, but to the schools around us. They can see with time and hard work that you can get wherever you want to go." The girls certainly had a very fruitful year, winning every meet in their conference alongside some very competitive programs. Congratulations girls and great work on making West proud!
Girls Golf:
The girls golf program has had a very consistent season overall. Although they sit in a very tough conference, they have kept up to pace with the rest of the pack and have even shone above their competition on several occasions, finishing in third place at their sectionals match. The girls have continuously shown their work ethic as a team and have continued to impress the entire year. Although the entire team did not qualify as a whole for regionals, we wish the athletes who still progressed to sectionals  good luck.
Boys Golf:
The boys golf program had a very solid year from the get-go. Senior Zach Phelps and junior Aidan Healy started off the season with a bang, scoring very well in several matches. This trend would continue throughout the rest of their matches, and with these efforts, they landed second in conference. Hard competition from Lincoln-Way Central was generally their biggest obstacle. They played hard but it just was not enough to carry the entire team forward. Congratulations to the boys program for having another solid year!
Boys Cross Country:
With a new home course, this year would have been different regardless of COVID-19, but senior captain and 2021 class president Bobby Ryan has recognized the challenge: "This XC season has been different than usual, but with the last invite our team has been doing great and we are looking to make some noise in the postseason. Because of COVID, most of our races this year have been here, on the brand-new course." Looking past this year, Bobby mentions that West will be a force for  years to come while also mentioning a few runners from this very solid pool: "Even though six out of seven varsity runners are graduating this year, the future looks very bright as Jackson, Sam, Aaron, Collin, and Spencer will look to improve in the next few years on the high standards we had set."
Girls Cross Country:
Building on what's happening with the boys, the girls are experiencing something very similar. Here, senior Mardi Lorenz shares her thoughts on the season as well as the new home course: " We are having a very good year so far. It's been really tough because we've only been able to have dual meets, so there is less competition, but it's cool to be constantly at our home course. It is so much fun to watch our top runner, Gianna Arizzi, because she is only a sophomore, but she has won every meet so far. She's absolutely killing it right now. We have conference coming up and we're all super excited. The team spirit has been going through the roof despite all the changes." In reference to the new course, it seems the girls and boys programs share the same feelings. "It is not an easy course at all; it's more like a 5k but only counts as three miles. There are hills, wind, and no shade. However, it makes us better runners to be able to practice it all the time and will make the easier courses seem even easier," says Lorenz. We wish both programs good luck as they finish out the season in good standings.
Dance:
With limited opportunities this year, dance is high among the list of sports suffering from coronavirus restraints. Senior Anwyn Perry had this on her mind when asked how it was going: "Dance this year has definitely become a challenge, especially with the new circumstances. Every week it was unknown if we would even be able to practice, but we made the best out of what we were given. Since there were no performances for this fall season, we made videos to post on social media as a way to stay active. Due to the new regulations, the team has used it as a way to become more creative. Although it's not the best situation, we're definitely using it to our advantage."
Girls Tennis:
The girls tennis program is used to fluidity and a schedule that makes it easy to compete at their best. With cancelations this year and a tough conference, that same fluidity hasn't arrived as it normally should, but then again, what has just come normally in 2020? It was a rough start, but momentum is building for the girls as the season is ending, and that is exactly where it matters most.
With heavy restrictions on contact sports, many have not been able to fully compete this fall season. Although limited, athletics such as soccer, football, baseball, volleyball, cheerleading, and more have been hard at work in their offseason trainings. We hope to see them back in action in no time and hope the sports that are finishing up can bring home some silverware!