10 Spooktacular Activities for a Safe October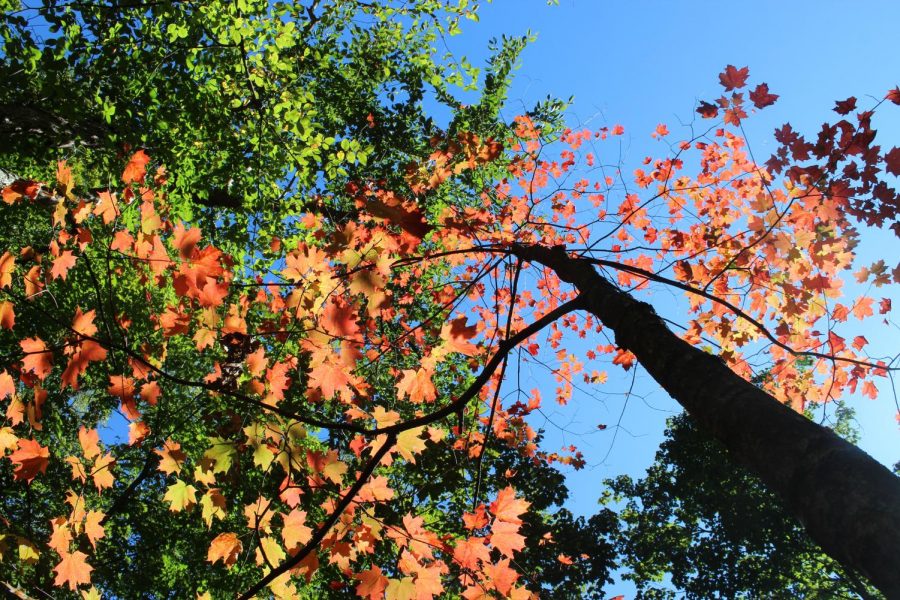 Chloe Schliffka
October 20, 2020
October is the time for the fall activities to take off! However, keeping safe is a priority. What are the best ways to keep your October safe and Spooktacular?
Get ready for Halloween and the fall season with some decorations and crafts to add spice to your home this season! One of many October traditions is carving pumpkins and leaving them outside to add the perfect pinch of orange to your house. Another fun way to get fresh air and create a beautiful piece of décor is to gather fresh fallen leaves and mod podge them to a glass jar. With a glowing candle inside, it will radiate a leafy glow! With beautiful fall crafts and decorations, not only is it something wonderful to look at but it also a great opportunity to try new skills.
The theme for the month is tasty, delicious, and scrumptious! This can be accomplished through a simple recipe for no-bake cookies (check out Pintrest for recipes). Delicious chocolate oat cookies add the perfect flavor to any cold, fall day. Pumpkin roll cake is another delicious option. Not only will this add the cinnamon spice to sweeten up your fall, but it's something the whole family will love! An easy condiment to add to your pantry is as easy as apple butter. Known for its soft texture and sweet flavor, it is the perfect spread for any meal of the day. If you want a treat that can be sweet or salty, soft pretzels are the way to go! Whether you sprinkle it with cinnamon or salt it's a perfect snack any time!

Online racing is a new useful phenomenon since most holiday races have been canceled. If you compete in them, you get to go at your own pace and in the end, you will be sent a medal and t-shirt for completing the race! This activity gets you up and moving and allows you to celebrate the new season in your own time. If you're looking for a race, check out this site: https://www.goneforarun.com/current-virtual-races/
Fresh air is the key to living a healthy life. For a non-competitive activity and easy way to get out into the fall weather, try hiking in the outdoors. Whether it's Pilcher Park, Starved Rock, or just a trail near your house, going on daily walks allows for a safe way to experience the beautiful autumn weather.
Being unable to watch sports in person and with others has taken a toll on all sports fans. With safe precautions and careful planning, this can be fixed! A creative way to safely watch your favorite sport with your favorite people is to challenge everyone to wear a mask representing the team they support. Not only will it get everyone involved but it will keep germs kept inside and allows for the fun competition of sports to be experienced.
If you want a deep dive into the fall spirit the best way to do that is through a good book! If you are looking for a riveting story about supernatural children and the chilling horrors that follow them, try Salam's Lot by Stephen King, a thrilling tale to get you in the Halloween mood. If you prefer romance stories, City of Bones by Cassandra Claire is filled with action fights with demons, vampires, and werewolves, along with the drama that follows the protagonists.
Halloween is the time for some of the best movies to be pulled out to watch. Whether it's a family movie night or just a time to relax, these options will bring the perfect dose of Halloween entertainment for you. To start, The Nightmare Before Christmas is a classic and should never be passed up. Another classic is Harry Potter, a favorite among many people and a binge-worthy series. If you're looking for something scarier It is the way to go, just be cautious of any lurking clown decorations around the neighborhood! More honorable mentions that are a must-watch during this fall season include: Coco, Sleepy Hallow, E.T., and It's the Great Pumpkin, Charlie Brown. These movies will bring the perfect pinch of amusement to your Halloween celebration.
With the fall weather here, it's important to soak up the remaining clear nights before the cold season. One way to do this is a bonfire with s'mores. Not only is this delicious and warm activity an easy setup, but it also gives plenty of room to spend time with friends while maintaining a safe space. Next time you're at the store pick up the graham crackers, s' more, and chocolate, the only remaining ingredients is a bonfire and friends to share it with!
'Tis the season for pumpkin patches and apple picking!  The fresh weather provides for cool days to visit patches filled with fall and Halloween activities. Apple picking allows for safe distancing and a bonus of fresh fruit to take home. From orange pumpkins for décor to sweet apples for new recipes, this is the perfect time to visit local orchards and farms.
Worried about how to celebrate Halloween safely? While the community is not postponing Halloween, it's always good to stay safe! Whether you plan on going out or handing things out, keep the continued guidelines in mind. For a nice trick-or-treat surprise, you can make small gift bags for friends, including in it socks, candy, lotion, or whatever you think would be a Halloween treat! If you have any younger relatives, you can have a safe indoor trick or treating experience by hiding candy and goodies around the house for them to find.
All these activities will keep your fall and Halloween season spooktacular and eventful. In times like these, it is always a good idea to keep the Halloween and holiday spirits lifted. Enjoy your October!