Alumnus Corner
Matt Maguire (LWW class of 2018)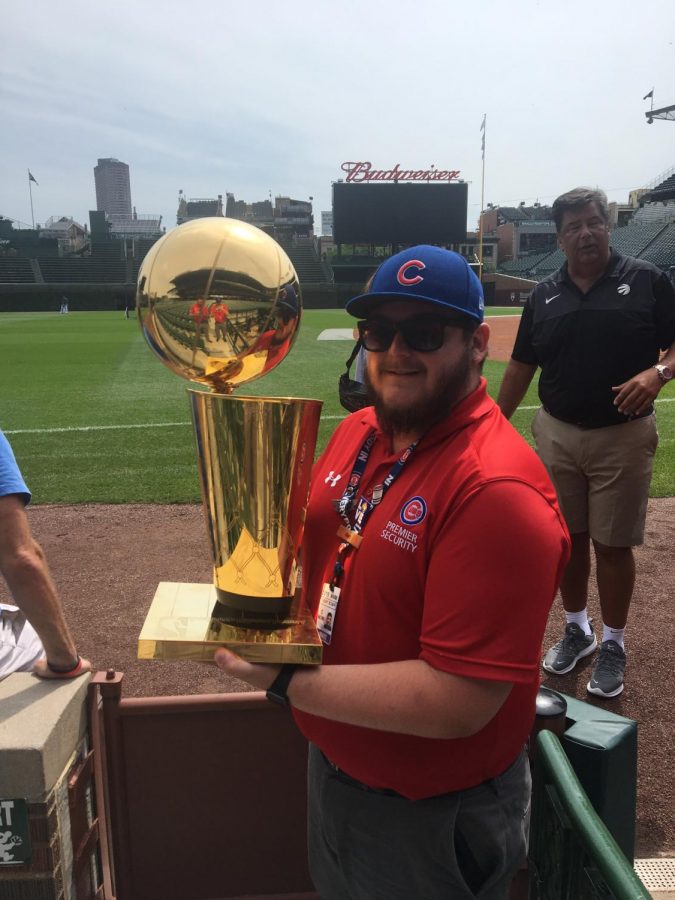 Matt Maguire
March 4, 2020
It doesn't seem real that I graduated from Lincoln-Way West almost two years ago now. Time has really gone by fast, as that seems like an entirely different chapter of my life now. Today, I'm currently attending the University of Illinois at Urbana-Champaign, and that has to be one of the best decisions that I have made in my life.
Back in high school, I was the manager for the varsity baseball and basketball teams, as well as a LEAP leader and a Warrior Way Asset presenter. I was also a Peer Helper throughout all four years of high school. My senior year I was an emcee for the assemblies. During my senior year I also had a lot of amazing teachers and classes, and really learned a lot about higher education and what to expect the classes to be like. My advice for all of you is to take AP classes and College Writing. The college credit that you get from them will be worth it, especially because you are taking the class for free instead of spending money on tuition to take it at a university.
I applied to three different colleges while in high school: The University of Louisville, The University of Kansas, and the University of Illinois at Urbana-Champaign. While I was accepted to all three of them, I was then faced with the hardest decision of deciding where I wanted to spend the next four years. I promise you, there is no easy formula to decide where you want to go. Just go with what feels right for you, and that is the best advice you will ever get.
At Illinois I'm currently pursuing a bachelor's degree in Recreation, Sport & Tourism with a concentration in Sport Management. I am currently scheduled to graduate a full year early in the Spring of 2021, instead of my original date of Spring 2022. While it may not seem like something that would turn heads, the experiences that I have had in this program, as well as at this University, are next-to-none. I am fortunate enough to be at the University during a time of good fortune for our sport programs, which make being in Illini Pride & Orange Krush all the more fun. I have also met some of the best professors you could ever meet during my time here. Dr. Raycract is one of them, and he has gone out of his way to do things for me and help me have even more amazing experiences. I took one of his classes which was called RST (Recreation, Sport & Tourism) 180 – A Hall Of Fame Adventure. During the Spring Semester we met once a week on Wednesday nights, and then during the summer we went on a trip to the East Coast visiting sites like the Rock & Roll Hall of Fame; Niagara Falls; Bethel, NY; Cooperstown, NY; Lake Placid (Home of the U.S. Olympic Training Site); Gettysburg; The Professional Football Hall of Fame; The Indy 500; and many other amazing places. We earned three hours of course credit for basically going on a two week bucket-list adventure. I have done many fun things and will continue to do so throughout my time here, but this will be the most memorable by far.
Dr. Raycraft has also been an advocate for finding his students jobs and internships within their field. Just this last week, I worked with the NBA during All-Star weekend in their remote front office at the Ritz Carlton in downtown Chicago. Throughout the week, I got to work in an amazing environment and travel around the city in NBA vehicles delivering items, as well as doing miscellaneous tasks for the NBA Staff. It was an amazing experience, and I was able to meet and talk with some of the most recognizable people in America including: Spike Lee, Bill Murray, Mark Cuban and many others. I was also able to network with staff which is pivotal in the sports industry. One of the best moments was by far when Commissioner Adam Silver came and thanked the four of us from the University for working with them throughout the week.
Another job that I have done and still currently hold is a Premier Security Service Ambassador with the Chicago Cubs. In this role I work security along with other small things. This has always been a dream of mine as the Chicago Cubs are my favorite baseball team and always have been. Here, I get to work within the premier spaces and work hand-in-hand with the front office staff when it comes to customer satisfaction, as well as coming up with new ideas for patron safety and an enhanced experience. I got the ball rolling for this job because I came up with a fake interview assignment and then asked different members of the front-office staff if I could interview them for it. After the interview all of them were very nice and asked about what I was interested in. They recommended that I apply for an event operations position–as that is how almost everyone starts–and then they are able to work their way up. I have had an experience that not many others have been able to see: the day-to-day grind of what working in the sports field is really like.
I believe that high school, as well as your higher education career, is all about what you make it and what you are willing to do for yourself. I know that the big cliché is to get outside of your comfort zone, but that is exactly what you need to do. Take every single thing that comes your way and just try it, because you never know what is going to help you later in life. The connections that you make now while you are young are going to help you in the long-run, even if you don't think so currently. The most important piece of advice that I have received and want all of you to know: it's not what you know, it's who you know. Networking yourself will be the most valuable asset that you have, so use it to your advantage.