Music Review: Everyday Life (Coldplay)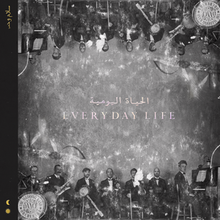 Mackenzie White
December 16, 2019
Ever since I was little, my home was filled with the music of Coldplay, who remain to be my favorite band. This past November, the band released brand new music in a double album called Everyday Life. The album is radically different from their previous works and is heavily influenced with different cultural aspects like language or instruments. Religion influences the album as well, but in a way that isn't obtrusive others' beliefs. The album contains sixteen songs separated into two sections; the first half of the album, called "Sunrise," and the second half of the album, called "Sunset." Both pieces come together into a succinct and coherent work of art.
Although varied in style and sound, Coldplay's newest album carries the attitude of the band. When listening to the album, it has the distinct Coldplay feeling, combined with the cultural inspiration, that fits just right into the band's portfolio. The songs of the album include: "Sunrise," "Church," "Trouble in Town," "BrokEn," "Daddy," "WOTW/POTP," "Arabesque," "When I need a Friend," "Guns," "Orphans," "Eko," "Cry Cry Cry," "Old Friends," "بنی آدم (Children of Adam)," "Champion of the World," and "Everyday Life."
The album begins with a beautiful instrumental track–"Sunrise"–that leads into the rest of the album, a peaceful and hopeful tone quietly building anticipation into "Church." "Church" explodes into a feeling of fun and carefree nature, transitioning into "Trouble in Town," which is a much more serious tone and contains excerpts from recordings of a conversation from Malcom X. "BrokEn" is a lighthearted acapella ballad that is fun to sing along with. Next is "Daddy," which brings the emotion through a story about a little girl singing to her dad. "Wonder of the World/Power of the People" is a small acoustic piece that is short and sweet. "Arabesque" brings more cultural flare through the lyrics being in French and the song containing jazz vibes through the saxophones, performed by Femi Kuti. Last in the Sunrise section, "When I Need a Friend" is a temporary goodbye that wraps up "Sunrise" and transitions smoothly into the second half.
Beginning the second half of the album, "Sunset," is a song called "Guns." "Guns" is different from the other songs as the band is making a political statement on gun violence. Next up is "Orphans," a classic Coldplay song that has a fun and upbeat sound, but when you look at the lyrics, the tells an intricate story that fits perfectly with the music. "Eko" is sweet simple but containing a beautiful story about love. "Cry Cry Cry" is a fun and jazzy and has a heartwarming message about staying by each other's side. "Old Friends" is similar to "Daddy" in that it carries emotion and personal experiences from Chris Martin, the lead singer. Next is "Children of Adam," which is a song that has many different parts inside the song itself that meld fantastically. This transitions into "Champion of the World," a song that is whimsical and light. This whole album culminates in the song "Everyday Life" and completes the album with a heavy goodbye and a Coldplay classic.
I thought that this album was fantastic and definitely one of their best. I love this new album and recommend this album to anyone and everyone.