West Side Pride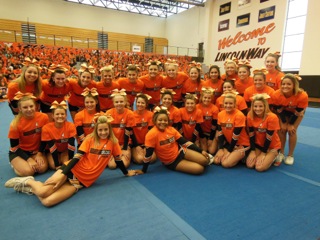 Hang on for a minute...we're trying to find some more stories you might like.
Every year Lincoln-Way West students participate in a school-wide assembly to start off the new school year and give a warm welcome to the Freshmen. For the 2014-2015 school year, the assembly was held on August 19, 2014 in the school's Main Gym. At the beginning of the assembly, each student was handed a special orange t-shirt that bears a motto that describes the upcoming school year. This year's shirt read, "West Side Pride," and the rally officially began once all of the students were wearing their t-shirts.
The assembly started with a student from the Lincoln-Way West Chorale singing the country's national anthem. This year, the national anthem was sung by Senior Jenna Kirkeeng. Kirkeeng sang with confidence and with a smile on her face for all to see. She sure does know how to light up a gym full of Warriors!
After the national anthem, Senior Kaelen Evon welcomed the staff and students with some opening remarks. Not long after Evon welcomed everyone and got the crowd excited, Mr. Mike Villa introduced the freshmen to the Lincoln-Way West fight song. Every year, each of the classes (Freshmen, Sophomores, Juniors and Seniors) competes to see who can sing the fight song the loudest and with the most energy. Once again, the Seniors took the victory and really impressed with their enthusiasm!
To continue the excitement, the Lincoln-Way West Varsity Cheerleading and Poms teams performed their newest routines. The audience really enjoyed watching their performances, and they got everyone to smile. The cheerleaders and poms also performed a routine to the fight song as the student body sang it once more.
West's Principal, Dr. Monica Schmitt ended the assembly by welcoming students once again, but not before Link Crew: Warrior Way leaders performed their much-anticipated choreographed dance for the student body.
The assembly, as always, set a positive tone that will hold strong throughout the school year!