Get Creative with Art Club
Morgan Antis
November 20, 2019
Hang on for a minute...we're trying to find some more stories you might like.
Do you like art? Are you looking for ways to express your creativity? How about just a chance to meet new people who have the same artistic interests as you? If you answered yes to any of those questions, then Art Club at Lincoln-Way West is perfect for you. Art Club meets after school twice a month in the art department, and it is open to everyone. You don't have to be in an art class in order to join Art Club, and you can join at any time.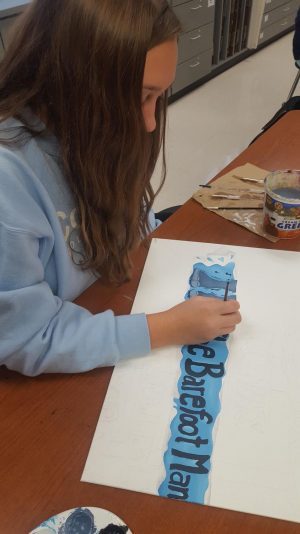 What I love about art club is that there are so many things to do and enjoy. You have the freedom to just doodle and hang with friends, try new art mediums, or use the time to work on current projects. Mr. Labriola and Ms. Johnson have been great sponsors, and they are the reason the club runs as well as it does. The people I have met through Art Club have been great. I love how there is a mix of people, from those who just want to doodle for fun to those who want to take their skills to the next level. No matter what the skill level, everyone can benefit from bouncing ideas off each other. The laid-back nature of the club helps develop our freedom for expression and can be a great outlet for those who didn't have time in their class schedules for an art class. While the club brings together a variety of personalities and levels of skill, everyone shares a common interest in creating art.